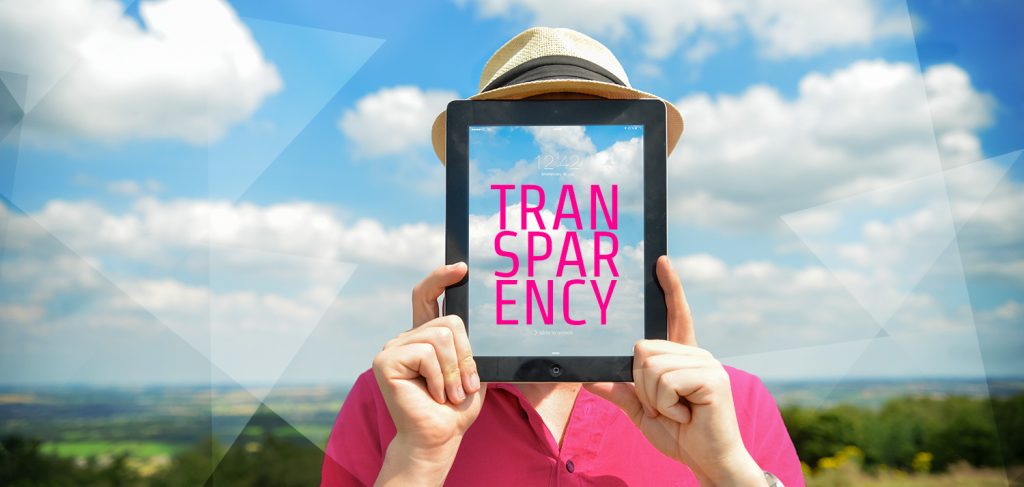 Trust. For many people Technology and Trust are completely and mutually exclusive . There is fear of the unknown, a sense of mutual detachment and that naturally breeds suspicion. What is on the other side of that network, that data gathering and that camera lens? And yet we all are drawn to companies – and people – that are transparent because transparency is the anchor root of trust . In a recent study by Label Insight, June 2016; 94% of consumers say that they are likely to be more loyal to a brand that offers complete transparency. What if the successful model of the future was technology as the foundational tool for building and radiating trust, authenticity, and transparency? The following are examples of exactly that; using technology creatively to build truth and complete transparency in service of us all.

Open. Period: Patagonia has always been a worthy example of a company taking advantage of technology to promote transparency to garner trust. The launch of the Footprint Chronicles on their website in 2011 let the public behind the scenes into their textile mills and factories around the world. This year, Patagonia announced plans to further supply chain transparency by developing an app that will allow workers in supplier factories to take real-time videos and photos of workplace conditions. They are taking advantage of modern technologies to spread unfiltered information, showing both positive and negative. The company is also pursuing a cloud-based system to serve as a portal for suppliers – this technology would allow them to manage product lifecycles in real-time and in front of the public eye. Wow.

Insight as power: In an effort to fight worsening pollution in the Baltic Sea, the Finnish bank Åland has created a unique and transparent environmental index, accessible through their Baltic Sea credit card. The card generates and assesses for users a monthly environmental impact report of each transaction they made. Using carbon pricing, merchant consumer codes, and financial risk analysis data, Åland Bank puts actionable information in the hands of customers, empowering them to make greener choices. Åland Bank has also offered up the service to all banks worldwide in the hopes that people everywhere can become more conscious of how their spending patterns impact the earth.

BlockChain Aide: Former Secretary General of the United Nations, Ban Ki Moon, estimates that about 30% of the roughly $100 billion in annual foreign aid does not reach its intended targets, mostly because of corruption and fraud. Aid:Tech is a company seeking to remedy that problem through a process of complete transparency. Aid:Tech's Blockchain technology, which underpins their intelligent voucher system, acts as a sort of immutable ledger, allowing governments and charities alike to see in real-time whether their aid has actually been delivered and redeemed by those who need it most. This is foundationally altering the way traceable aid reaches the intended recipients.

Digital Hospitality + Heart: As a digital platform, Airbnb is a company that was built on the idea of using technology to create trust and connect people. Since 2012, the online website has worked with third party world relief organizations to help provide short-term housing to approved people in need – whether it is from natural disasters or war or other conflicts. Airbnb provides the digital platform for its hosts to list their places for free in order to connect with people who have been selected by those outside agencies. The hosts and agencies can then work together directly to ensure there is a match in the type of housing, duration of stay, and any other needs that may arise. This is a digital company that doesn't just stand for trust, but a company that takes it a step further by ensuring a sense of belonging exists to those most in need.

In an environment brimming with barriers to trust, these transparent solutions to very human needs, enabled by technology, are especially comforting. That consumers are drawn to brands that are transparent, authentic, and trustworthy shall, in our minds, clearly help elevate this type of model in the future. We believe. Please join us in discussing other ideas.